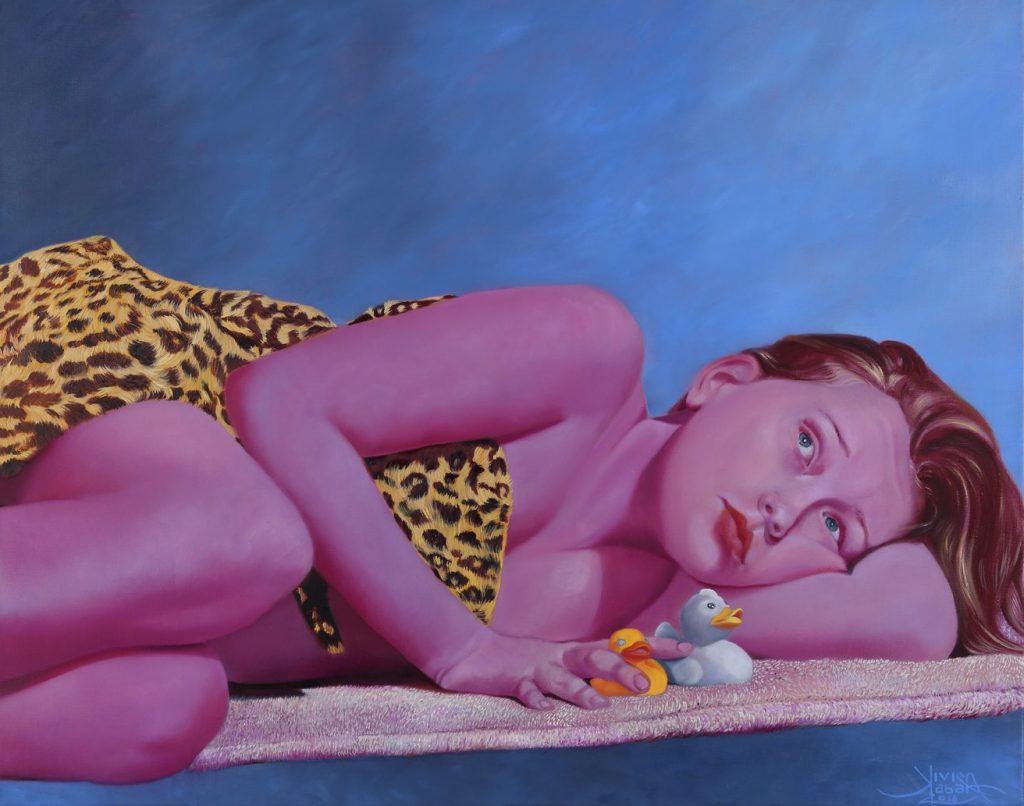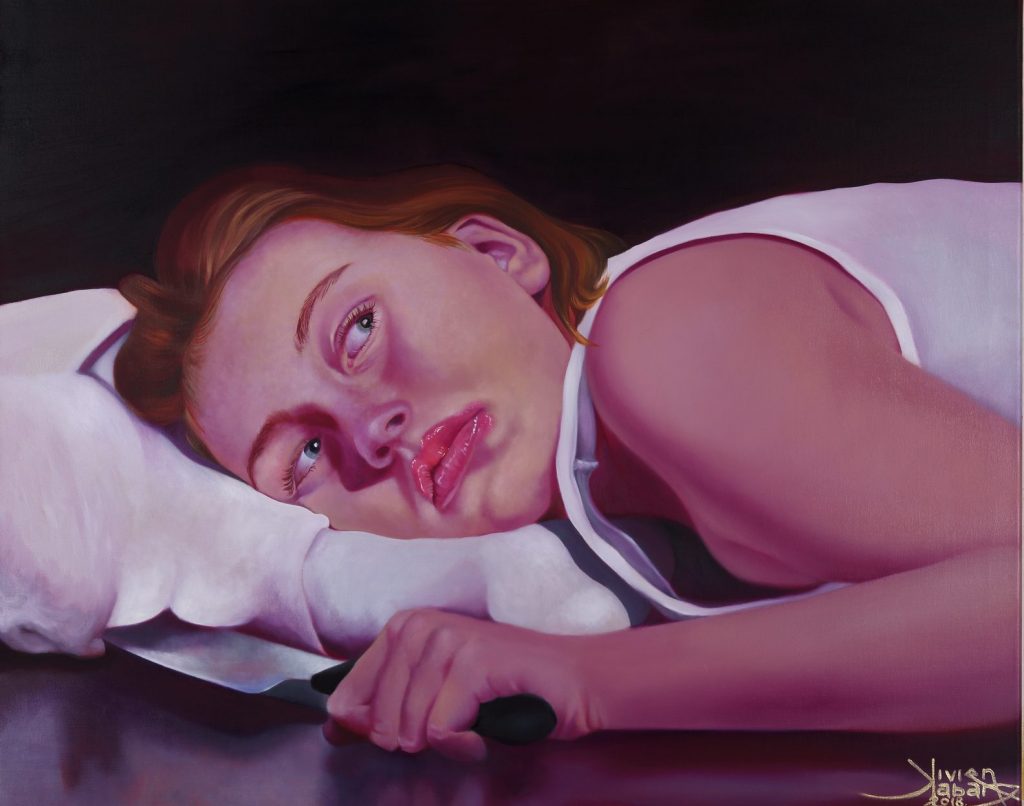 Vivien Kabar
seductive, innuendo, sleepy
Taking a closer look at Kabar's artwork, it goes without saying that numerous stylistic means are applied.
The artist's uniqueness does not only lie on her capacity of depicting loneliness in her pictures but also on the ability to distract the viewer from the object, though human depiction and psychological introspection are the leitmotiv of her works. Kabar is capable of catching the moment in her works.
One more characteristic which is obvious simply lies in her naturalness which is applied in the creation of her objects. Neither does Vivien Kabar make use of dark colour, nor does she include monstrous creatures or apocalyptical sceneries in her artwork. The reality and its banality are depicted in an extremely simple way, though its effects on the pictures are unsettling.
Without any doubt, fine drawing can be attested to the Viennese artist who shows the American opening spreading from Europe. Paris is crucial to this European opening in the 30's of the 20th century. At that time Paris was about to come into an inescapable crises which portrays today's situation.
In public Kabar is perceived as an artist who tells faces or lines in the faces floating in expectations where everything dissolves in an atmosphere of waiting in an exchange of objects and subjects. This creates an expressionism of great depth which is condensed in every-day life.
A double Vivien can be seen – bright and shining when she devotes herself to the profiles – embedded in a complete transparency of air; less confusing and much more erotic when she portrays the naked in a way that seems to be influenced by Schiele and Balthus. However, her way of depicting is on a higher magical level.
Many elements can be found in her artwork – close psychological view and extremely distant from various European landscapes. Especially these landscapes are of historical importance, but also about to decay.
Kabar, whose mind is free from extraordinary visions, describes infantile architecture without luxury and implicit Baroque.
A psychological interpretation can be applied by taking a closer look at those faces. The similarity of the places is broken by the choice of point of views. Exactly these cuts determine the essentialism of the picture as well as the effects of estrangement. This estrangement is achieved by the colours and lines. A great effect of youthfulness is created by the clash of stylistic features. Thus, these features indicate a strong will balancing a non-focused view. The closer you look at the portrait, the more splendid it appears.
Psychological interpretations are required when the elements are set back to its basic.
Kabar has fully devoted herself to the secret of the innocent gaze which captures the erotic lines of the body with its fatal attraction. However, it is never captivating by its morbidity. Even today it seems that this clash is vital in our society. It is a world in which sexual obsession and gender anxiety meet in a medial scenery by mixing up reality and virtuality.
This fusion leads to an impurity which jeopardizes the capacity of judgement as well as nourishing the many kinds of prudery that are not related to art at all.
If you consider the complete work of Vivien Kabar's - ranging from light to heavy art - the term contemplation comes into force. Her artwork is characterized by the capacity of leading a dialogue without using words. Especially this skill turns her into a master, which makes her an appreciated member on the international market of arts.
There is no doubt that it deals with the beautiful side of art which focuses on persistence.   Especially this intervention portrays her clear expression of her uncomplex personality which enables her to structure her feeling and sensation.
The artist is capable of making a psychoanalysis of herself by looking at her inner and outer world. By doing so she portrays a visible, fully smooth universe with a totally balanced world, which hardly ever occurs nowadays.
There are two kind of people – the ones claim that our mankind has reduced itself on the media whereas others claim, that the mankind is exploiting the media. Considering the complexity of mankind one fact is obvious – We are continuously changing and so is our perception. Luckily we are still able to stay with artists – especially gifted artists – such as Vivien Kabar.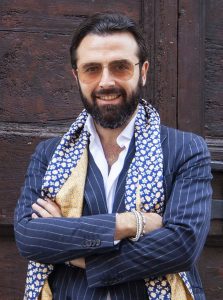 Prof. Pasquale Lettieri
Art critic
PRIZES
"Premio Internazionale Cartagine" 2021. - Awarded by the Italian Cultural Academy Cartagine
"Art Against Violence" 2014.- Awarded by the Interior Ministry and the Criminal Investigation Department of Austria
"Silver Plaque" 2011. - Awarded by the Robert Schuman Institute and the European Parlament
"Artis Laudabilis" diploma and prize, 2008. – Awarded by the Europa Authentica Cultural Organization
CONTESTS
"Cover Contest"- Art Ideal Magazine - Front Cover - Lyon, France - 2020
COLLECTIONS
HDI Versicherung AG / HDI Global SE Insurance Company - Vienna, Austria
The House of the European Union - Vienna, Austria
Southern Nevada Museum of Fine Art, Las Vegas, USA
Basilica Papale Santa Maria Maggiore, Rome, Italy
Centre for High Defence Studies - CASD - Rome, Italy
Sensory perception for Kabar is a spiritual activity, one that leads to a heightened awareness of both nature and culture — this thought process points to a new kind of realism — one that is engaged with the actual processes of life.

- Suzie Walsh, New York Arts Magazine
I am privileged to have worked with many artists internationally, among them: Anthony Quinn, Tony Curtis, Leonardo Nierman and many, many others.

I find Vivien's work exceptional, her dream like subject matter, composition, use of color, every aspect of each of her canvases are worthy of international acclaim.

Irene Dessewffy, Las Vegas, USA